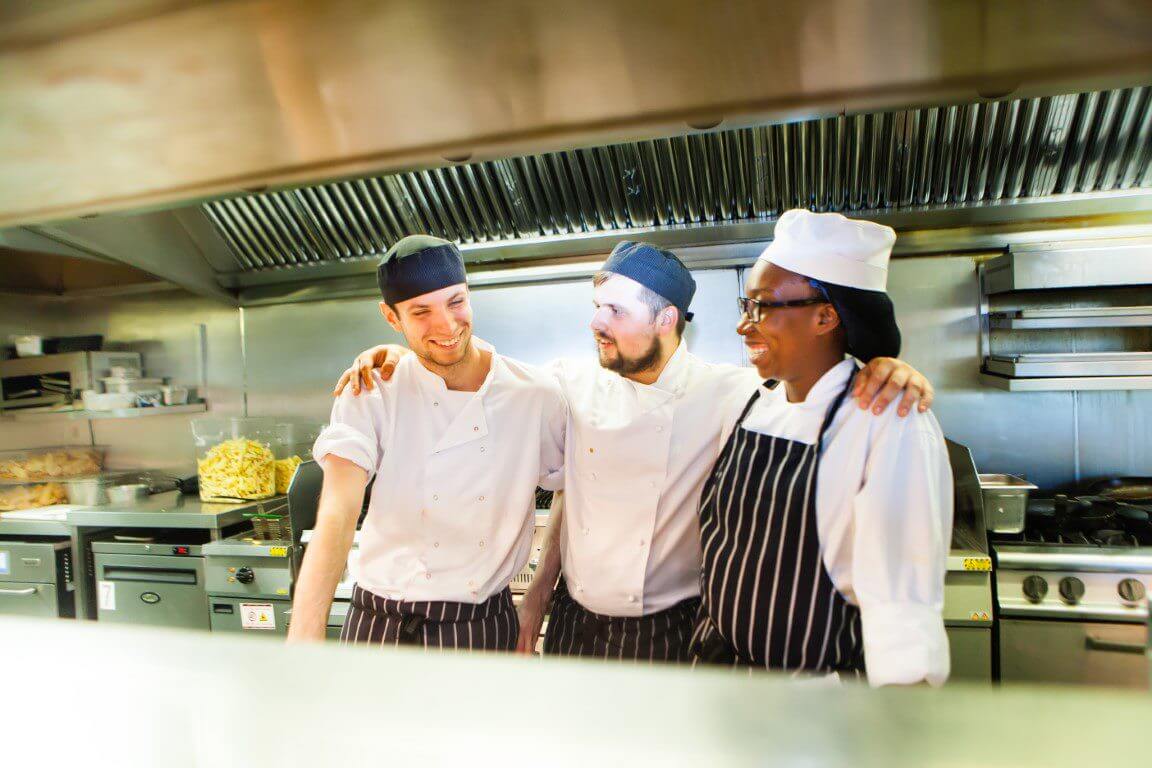 Skills that you'll pick up in the kitchen that will set your career up for success
Skills that you'll pick up in the kitchen that will set your career up for success
As you grow your chef career, you'll master your knife skills and become a seasoned pro at adding the perfect balance of flavours to a dish. But there's so much more to working in the kitchen than this.
Here are some of the top skills you'll pick up in the kitchen that will set you up for success – whether you choose to continue building your kitchen career or explore other passions.
1. Relationship building
Kitchens can often be small spaces, especially if you have a large team and lots of fellow chefs to work around. Not only does this make you a master of keeping your space clean and organised, but you become an expert at working closely with other people.
We don't need to sugarcoat what it's like to work in a kitchen. Everyone knows it can be hard at times, which is why chefs know how important it is to keep morale high and remember to have fun with their team.
It might come as no surprise that communication is listed as the top skill employers are looking for, but did you know that relationship-building comes in a close second? 83% of employers are looking for this skill, making candidates with experience in the kitchen very desirable.
2. Attention to detail
While attention to detail is one of the most in-demand skills, with 56% of managers agreeing that it's hard to find in younger employees, that's not often the case with chefs.
Chefs and apprentice chefs are always hungry to develop their skills profile. With this desire to be the best comes a very high level of attention to detail.
You'll do a quality check on the food, ensure the presentation is tip-top and make sure nothing is missing from the order. And you'll do all of this in a fast-paced environment. This makes people with kitchen experience ideal candidates for any job that requires a good eye for detail and the ability to keep calm under pressure.
3. Efficiency
Working in the kitchen, you can often have a lot on your plate (pun intended). You've got to make sure the prep work is done, keep the area clean, watch for incoming orders and even get ahead of yourself before the next food rush. All this means that not only do you learn how to multi-task, but you learn how to do it efficiently.
You think one step ahead, make sure that everything is in place and get yourself ready to charge full steam ahead for that next rush.
4. Leadership
No matter where you're at in your career, whether you're a kitchen assistant, a chef a kitchen manager, there will always be the opportunity for you to show a newbie the ropes.
Remember your first day in a new kitchen? Someone had to show you where the dirty pans went, how not to get locked in the walk in fridge, and which knives were the best to use.
With 84% of businesses expecting to face a shortage of skilled leaders over the next few years, this transferrable skill will be more valuable than ever before.
Are you ready to follow your passion?
We know there is a whole bunch of reasons why people choose a kitchen career. Yes, you've got a passion for cooking – your friends might even call you the foodie of the group – but you also know that the skills you pick up in the kitchen will set you up for success.
If you want to develop a skill set that will prepare you for a future inside or outside the kitchen, let us share some opportunities with you. We have a range of kitchen roles ready for you to apply for. Browse our current kitchen jobs and find out more about what to expect from a career with M&B.
Receive articles like this
Jobs
Jobs you might like...