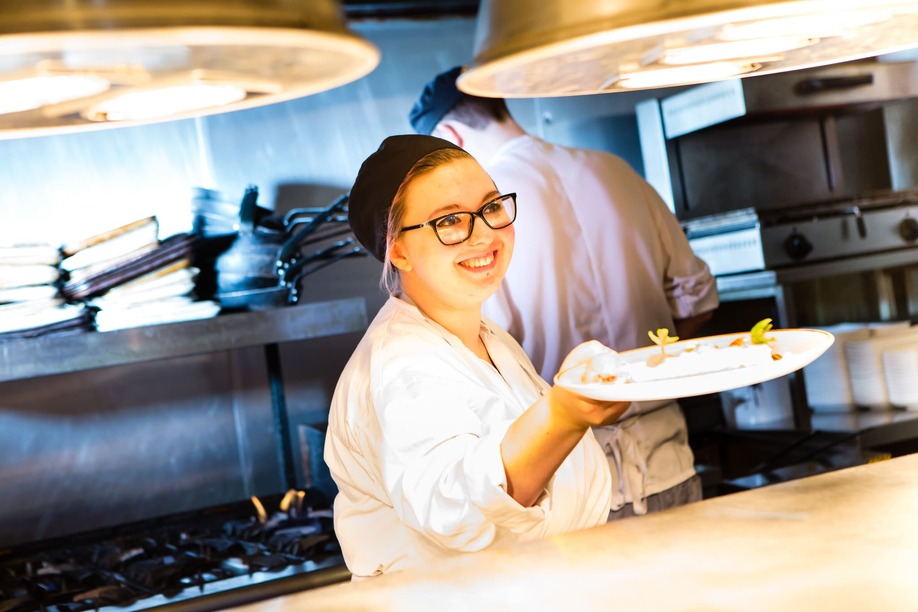 Is a restaurant job a good career path?
Is a restaurant job a good career path?
If you're on the lookout for a career path that's as dynamic as it is rewarding, we've got a sizzling suggestion for you: have you considered a restaurant job?
Whether you're a young professional contemplating your career trajectory, already in the hospitality game, or someone seeking a change to a more fulfilling journey, Mitchells & Butlers pubs and restaurants could be the secret ingredient to your perfect career recipe.
Benefits of working a restaurant job
1. From a kitchen assistant to a restaurant manager job, a world of opportunities awaits
Embarking on a restaurant career isn't just about serving up tasty plates and being in foodie heaven; it's a journey ripe with growth and development.
At M&B we're committed to nurturing talent and providing a ladder for career climbers, like John who climbed up to a Kitchen Manager role in just 3 years and Ben who levelled up from apprentice to kitchen manager with five promotions in five years.
Our stellar team members prove that a restaurant job can be more than just a job, it's a career.
From entry-level positions to leadership roles, there's always room for advancement. If you're wondering how to get started, or you're worried about switching careers, you're never too old to do an apprenticeship. It's a great way to learn and earn at the same time!
And if you're stepping into the hospitality industry for the first time, learn how to prepare for an interview for a restaurant job.
2. Transferable skills that sizzle beyond the kitchen:
If you're exploring careers in hospitality, and weighing up what you stand to gain, working in a restaurant offers a melting pot of skills that translate seamlessly to various industries and other parts of life.
From effective communication and teamwork with your kitchen team to leadership, time management and problem-solving, a restaurant job at Mitchells & Butlers hones skills that are universally valued in the professional world.
These skills are the secret sauce to success in any career path you choose. If you've got your sights set on running the kitchen one day for example, you'll have plenty of opportunities to translate skills from a server or kitchen assistant to a restaurant manager role.
3. Teamwork makes the dream work:
In the restaurant industry, teamwork isn't just a buzzword; it's a way of life. After celebrating 125 years of M&B and the people who make it so special, we know a thing or two about the power of teamwork.
We foster a collaborative environment where everyone plays a crucial role in the success of the team.
The friendships forged in the kitchen or on the restaurant floor are not just for the shift – they're often the foundation of lifelong friendships outside of work too.
4. A feast of perks and benefits:
Mitchells & Butlers believes in taking care of its team members. Working with us means enjoying a spread of perks and benefits, from employee discounts that make dining out a delight to flexible schedules that accommodate your life outside of work.
It's not just a job; it's a commitment to your happiness.
Are you ready to find the restaurant job of your dreams?
So, there you have it, a glimpse into why a restaurant job could be the career path you've been searching for.
If you're ready to blend passion with profession, Mitchells & Butlers pubs and restaurants are waiting to welcome you into the kitchen family. Explore our kitchen jobs today.
Stir up your success and savour the journey – your career adventure starts here!
Receive articles like this
Jobs
Jobs you might like...